The Terrain of Taiwan Contemporary Art
6/10 (Sat) - 7/16/2017 (Sun)
Lee Jiun-Shyan, Chiu Kuo-Chun, Lin Shu-Kai, Hou Chun-Ming, Dean-E Mei, Zhang Xu Zhan, Yang Mao-Lin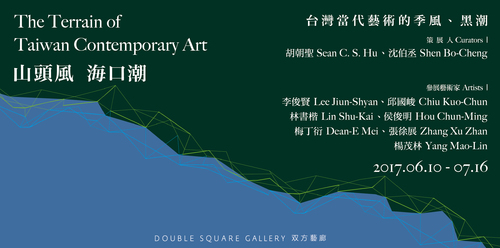 Exhibition Dates: 2017/06/10 - 07/16
Exhibition Venue: Double Square Gallery
Opening reception: 2017.06.10 (Sat.) 5:00 pm
Curator: Sean C.S. Hu、Shen Bo-Cheng
Artists: Lee Jiun-Shyan, Chiu Kuo-Chun, Lin Shu-Kai, Hou Chun-Ming, Dean-E Mei, Zhang Xu Zhan, Yang Mao-Lin
Double Square Gallery presents the group exhibition, The Terrain of Taiwan Contemporary Art, from June 10 to July 16. Sean C.S Hu and Shen Bo-Cheng have taken up the role of curators and invited seven important contemporary artists in Taiwan including Lee Jiun-Shyan, Chiu Kuo-Chun, Lin Shu-Kai, Hou Chun-Ming, Dean-E Mei, Zhang Xu Zhan, and Yang Mao-Lin. Bearing nature and humanism in mind, the exhibition aims at tracing the root of the unique spirit and essence in Taiwanese contemporary art against the backdrop of changes in the island's natural surroundings. Meanwhile, the exhibition wish to investigate how the island's distinctive humanistic temperament, with its seasonal winds and ocean currents, has shaped the contemporary art scene and aesthetic thinking in Taiwan.
The geography and climate of a place have a strong effect on the local humanistic spirit. Similar to the notion "terroir" developed by French winemakers, environment nurtures the undulating process of an artwork creates the work's delicate yet unrestrained attributes. Looking back on the history of Taiwan, as the wind continues to travel through mountains and ocean waves constantly wash against the coastline, the exclusive terroir has thus been created. Even in local religions and folktales, the concept of terroir is deeply ingrained. These folk beliefs resonate with the humanistic spirit in Taiwan; for instance, people's belief in the creases of typhoon grass to forecast weather, while the worship of Chinese sharp-nosed vipers reflects the reverence people hold towards death and rebirth. The creation of Taiwanese art has broken through and developed in the environment of "mountains, ocean, wind, waves." The turbulent waves caused by Kuroshio Current sweeping up the ocean and the deep, tranquil scent oozing from seasonal winds piercing through mountains, creating the uncapturable yet immensely vivid "characteristics of Taiwan."
The Terrain of Taiwan Contemporary Art features seven Taiwanese contemporary artists, attempting to reassess the possibilities of Taiwanese contemporary art from the perspective of "terroir" and "temperament." The exhibition aims to capture the context of "characteristics of Taiwan," which contains the same subtlety and depth as seasonal wind and ocean currents. Taking Taiwan's changes over time into consideration, Yang Mao-Lin uses a humorous, innocent, and exaggerating approach to manifest his reflection on its sophisticated culture. Dean-E Mei uses "identity" as the main motif; he combines criticism and sarcasm with his Taiwan-style art piece, in an effort to position Taiwan's history and culture. Lee Jiun-Shyan combines in his work qualities of local blue color workers to honor the hard work of the tanned "men of Kaohsiung." Hou Chun-Ming dauntlessly interweaves the myths and legends in traditional literature in an attempt to present the desire, obsession, and conflicts of ghosts, gods, fairies, and monsters in folk religions. Along with taunts and sarcasm, Chiu Kuo-Chun's art displays the clash between traditional Taiwanese culture and contemporary capitalism. Meanwhile, inspired by local folktales, legends, and myths, Lin Shu-Kai's work was created using the composition of traditional maps and ink wash paintings, which reflects people's yearning for "utopia" and "land of peach blossoms." Zhang Xu Zhan, born into a family that have run a paper sculpture shop for a century, uses animation to give vigor to paper houses, paper dolls, paper monsters, paper flowers, and paper birds where his wild imagination are materialize through images.
Curator Sean C.S Hu graduated from New York Fashion Institute of Technology, CUNY with a master's degree in Art Administration. He is now a lecturer at National Taiwan University of Arts, the board member of Jut Foundation for Arts & Architecture, consultant for Association of the Visual Arts in Taiwan, co-founder of VT Artsalon, CEO of Hu's Art Company, and co-founder and curator of Double Square Gallery.
Curator Shen Bo-Cheng graduated from Tainan National University of Arts with a doctorate degree in Art Creation and Theory. He has studied chemistry, worked as materials engineer, conducted anthropological research, served as researcher at Taiwan Institute of Economic Research, and worked as curator. He has also taken up the role of docent at National Taiwan Museum of Fine Arts and Museum of Contemporary Art multiple times. He is currently an art critic as well as assistant professor at Department of Communications Design of Shih Chien University.