The Better Way Back to the Soil
11/18 (Sat) - 12/24/2017 (Sun)
Youki Hirakawa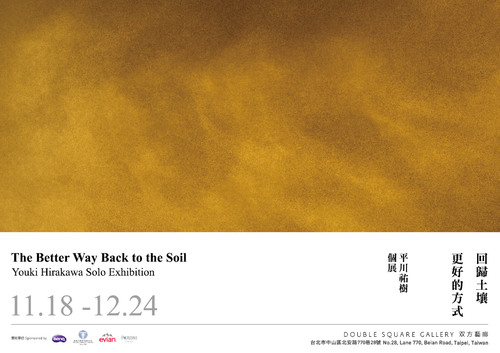 Exhibition Date:2017.11.18 - 2017.12.24
Exhibition Venue:Double Square Gallery
Exhibition Opening:2017.11.18 (Sat) 15:00
From November 18 to December 24, 2017, Double Square Gallery will host The Better Way Back to the Soil, a solo exhibition by Japanese artist Youki Hirakawa. Just 34 years old, Hirakawa has made his mark in the international art world with his works in various media, ranging from video imagery to minimalistic two-dimensional paintings. From his blending of Eastern Zen philosophy with the pluralistic style of Western contemporary art emerges an innovative, cross-cultural viewpoint that has captivated Eastern and Western collectors alike. The exhibition will feature twelve video and print works, including a new, large-scale 4K resolution video piece which the artist conceived and created specifically for the Double Square exhibition space. To present this piece, Double Square has collaborated with BenQ, which will provide a state-of-the-art 4K high-resolution projector, to offer visitors a wholly new, stunning visual experience.
Having received rigorous training in film production, Hirakawa dexterously manipulates images and time. His works, through different means of transformation, contemplate ideas of frozen time and its vectors and bring time—once at a standstill—back into motion. In preparation for this exhibition, the artist collected, from all over the world, cellulose nitrate-based film stock, which was widely used until the 1950s and is commonly referred to as "nitrate film." It is suggested that roughly 80% of nitrate film stock may have already been lost due to the material's spontaneous combustibility and improper storage which has resulted in theater fires. The Better Way Back to the Soil presents works that center around these disappearing rolls of film—works of art created with films of which the negatives may have already been lost to future generations or which have no recorded history. As for those negatives that were collected yet were unable to be played or viewed, the artist burnt them, and from the ashes extracted the time and memory of this process of recording. Through media archaeology and a methodology reminiscent of alchemy, Hirakawa creates video imagery and two dimensional works that, with modern digital technology, evoke analog memories of the last century, calling on visitors to explore a past which has already vanished from our own space and time.
Youki Hirakawa born in 1984, his works have been exhibited in Japan, Germany, Taiwan, China, Hong Kong, South Korea, Britain, the United States, Poland, Italy, Greece, Lithuania, Russia, Australia and Canada. He was invited to be exhibited at the 12th Taipei Digital Arts Festival in 2017. He has been awarded the 16th Japan Media Arts Festival Art Jury selection, Now & After Moscow International Video Festival, the 12th Japan Media Arts Festival jury selection, Germany Hector Preis 2015 der Kunsthalle Manheim 14 Nomura Foundation Nomination, overseas researcher at the Japanese government's Overseas Research Project Cultural Affairs Bureau. Works have been collected by Japan Minokamo City Museum, JUT Foundation for Arts & Architecture, Japan Pola Art Foundation and other collections.